Our Maine Coon adventure started here with our adorable Houpette, and continues with our just as wonderful Fairy Tale. Thank you Mireille!

Diamond Red, our 'gentle giant', comes from here... Thanks to Yaëlle !

Darling joined us from the globally famous Wistariantale cattery in Italy, managed by the charming Sumiyo.

Another world-famous place - Katarzyna has a splendid cattery in Poland, where we visited to add Langella to our family. We keep in regular contact.
Daniela has another renowned cattery - Broceliande is based in Switzerland.

Janet et Philippe are real friends, and have some really friendly cats too!

Laëtitia has some lovely 'coons' also !

Gérard et Danielle were among the pionners of the Maine Coon race in France.
« La Chatterie de Haut Sartoux ».

Martine and Michael Woolf astonish us with their drive and energy. They've created both the AFM, and the FFM. We've been to every Monaco International Cat Show since the very beginning, and the show keeps getting better.

Christine ~ The creator of our site, and 'photogapher extraordinaire' of all our cats.

Josephine CANGEMI is a great animal painter - this is one she did for us. jocami@orange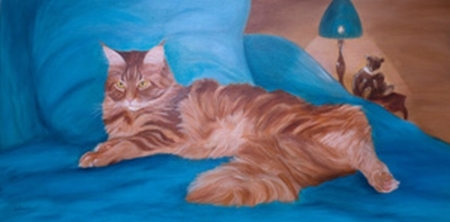 Eric was amazingly helpful in constructing our animal park; quickly and for a reasonable sum. He has his own building company, so if you're around Nice and need some work done...
Eric Gellerat 06 22 26 34 76 or
beg-entreprise@hotmail.fr